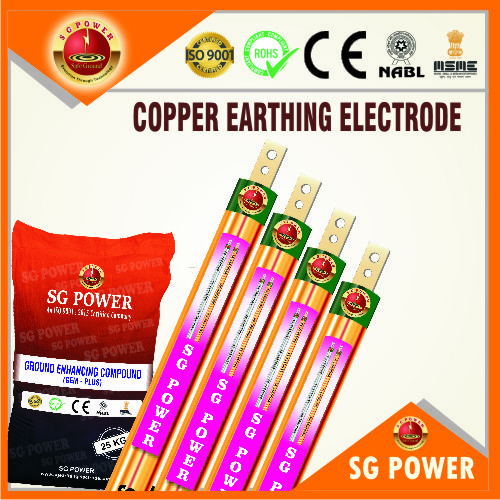 Copper Earthing Electrode
Product Code : 00
200.00 - 12000.00
Price And Quantity
Minimum Order Quantity

:

50
Unit of Measure

:

Meter/Meters
Price Range

:

200.00 - 12000.00
Product Description
A team of experienced professional manufactures this Copper Earthing Electrode with the implication of innovative techniques. Our provided electrode is a perfect product for earthing solution in oil & gas refineries, power plants, water treatment industry, telecommunication areas and other fields. Also, it protects electrical equipment from high voltage. This Copper Grounding Electrode is filled with SG GEM PLUS compound to reduce earth resistance. It is available in different copper bonding thicknesses, lengths and diameters.
Copper Earthing Electrode Key Points:
1) Offers excellent current conductivity.
2) Steel core enhances life of earth system.
3) High durability and anti-corrosive surface finish.
4) offer a lower resistance so that the more likely the lightning, surge and fault currents will flow safely and dissipated to the ground.
5) The back fill compound form a layer around the electrode and continuously increase the soil conductivity, further reducing impedance and resistance of the soil.
6) It is easy to install. It can be installed indoors or outdoors and in almost all soil condition.
7) It offers a maintenance free solution. There is no need of extra water pouring at regular interval like conventional earthing as the back fill compound poses the nature of retaining the moisture for long time.
Product Details:
1) Available Electrode Diameter : 40-75 mm
2) Available Length : 2000-3000 mm
3) Available Internal Strip Size : 25x03-50x06 mm
4) Coating Thickness (Microns) : upto 250
5) Conductor Size (mm) : 12 mm - 25 mm
6) Usage/Application : earthing
Specifications:
| | | | | |
| --- | --- | --- | --- | --- |
| Models | Electrode Diameter (mm) | Length (mm) | Internal Strip Size (mm) | Conductive Mineral Filled |
| SG2402503 CB | 40 | 2000 | 25x03 | Yes |
| SG2402504 CB | 40 | 2000 | 25x04 | Yes |
| SG3402504 CB | 40 | 3000 | 25x04 | Yes |
| SG2503004 CB | 50 | 2000 | 30x04 | Yes |
| SG3503004 CB | 50 | 3000 | 30x04 | Yes |
| SG2755006 CB | 75 | 2000 | 50x06 | Yes |
| SG3755006 CB | 75 | 3000 | 50x06 | Yes |